Feeding Passion Through Knowledge: Kahashy Mussana Ally
Rootencial is delighted to introduce Kahashy Mussana Ally, a Congolese videographer and entrepreneur from the city of Goma in the Democratic Republic of Congo.
"If you look up my hometown or country on Google, it's like a horror film," Ally says. "There are Kalashnikovs, soldiers, and people cut by machetes. That kind of image makes you want to stay away. For all the journalists that pass through here, the drama they capture sells well to world media; it's effective on TV."
While working as a technician at a local radio station alongside his friend Martin, Ally started thinking about ways to change this.
I realised that the only way to build a more positive image of my country would be if young Congolese started to tell their own stories. We know there are lots of people doing impressive things around here, despite the challenging context.
Together, they decided to launch Nyiragongo Ngoma Productions (NNP), a multimedia production agency dedicated to telling more positive, creative and authentic stories from the region. Having assembled a team of talented young creatives, Ally and NNP offer a wide array of first-rate services to their clients – videography, photography, audio, graphic design, web design and social media strategy.
The NNP team have shot the Amani Festival, a three-day celebration of music and arts promoting peace in the African Great Lakes region. They've told the stories of Congolese coffee farmers and the region's immense agricultural potential. They've offered a fly-on-the-wall account of local artist Justin Kasereka in his studio. And they have bold ambitious goals for the future.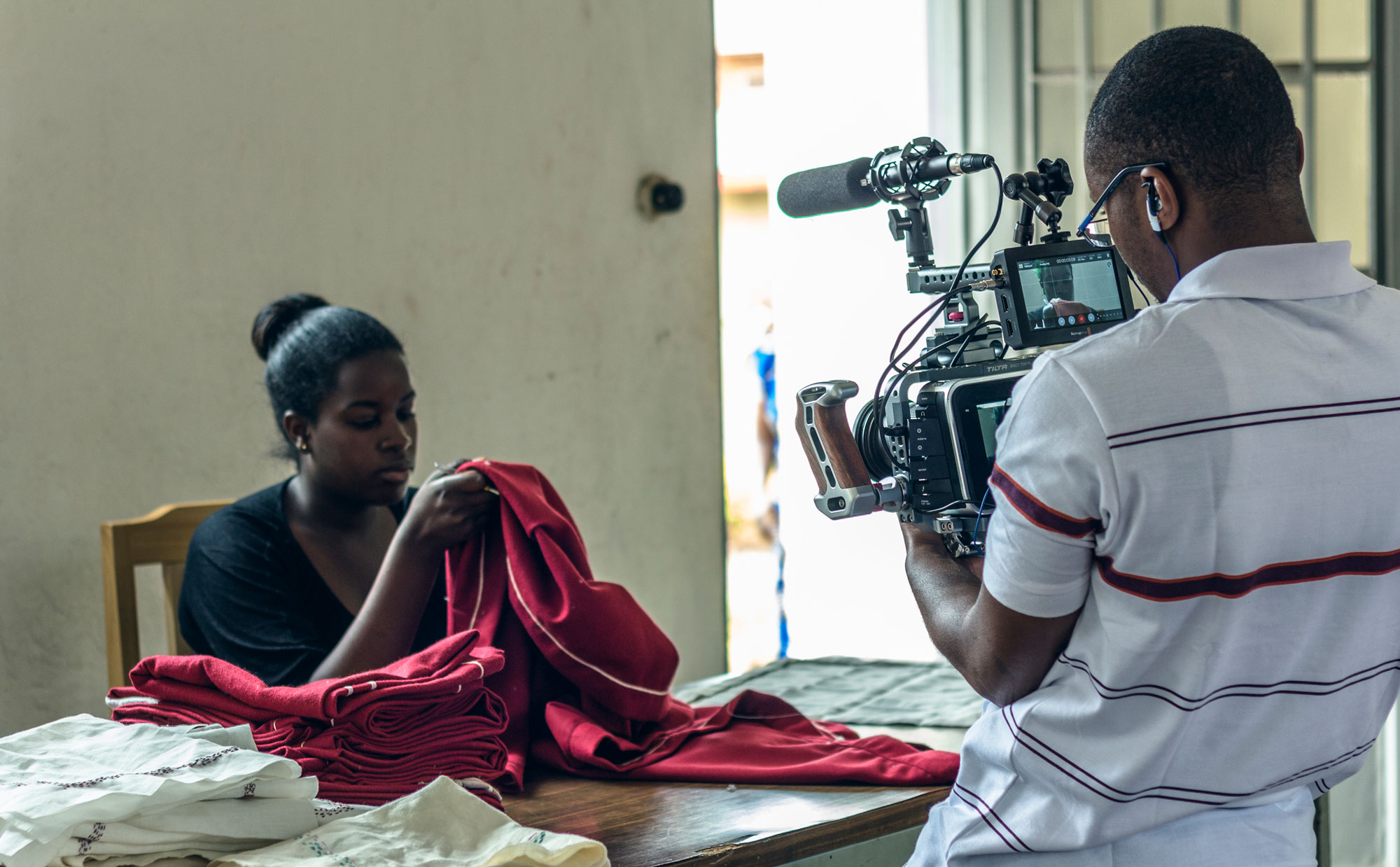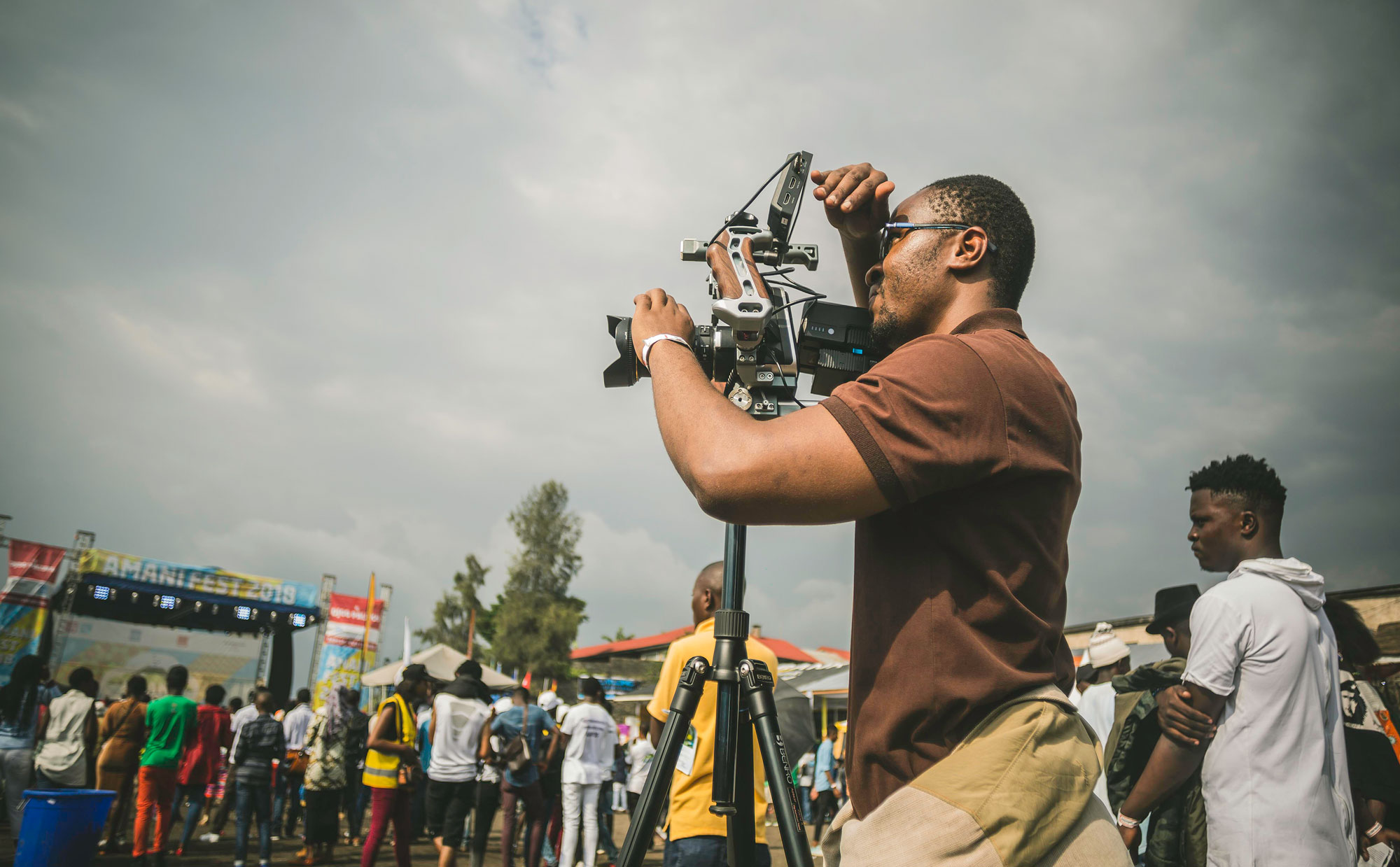 Maybe it's just a small contribution, but I know that this is my gift and my way of changing things in our country and region. You have to use what talents you have for good
Ally's family were not always supportive of his interest in videography. He used to have to wake up in the middle of the night and sneak into his father's office to use his computer, secretly learning new techniques online and practicing his video editing skills.
After realising that this was more than a passing hobby, however, his family started to come around. Ally's father introduced him to a friend with experience in videography, who taught him the basics. Ally was then connected to Yolé Africa, a cultural centre offering training in videography that he enrolled in.
YouTube tutorials were also transformative for his learning; Ally says he's practically addicted to the video-sharing platform. He's currently subscribed to more than 220 YouTube channels for videography, helping him to keep up-to-date with the latest developments in the industry.
Ally attributes a lot of his success to his open-minded attitude and willingness to ask others for help:
I'm somebody who asks a lot of questions. If you're even slightly more advanced than me, I'm always going to come and try to learn from you. You have to be ready to approach people to ask them to help if you want to improve your skills. You have to feed your passion through knowledge.
Ally offers three pieces of advice to others looking to follow in his footsteps. The first is to know that we can become anything we want – provided we have the knowledge and understanding. Ally feels that you have to keep learning and teaching yourself new things to get to where you want to be.
Secondly, he says, you have to be resilient. "Never fold your arms and give up, even when you encounter difficulties. My work requires a lot of resources – a camera, a computer, and things like that. But I've never had my own laptop, I've never had my own camera that belongs to me. I've always had to look for the right opportunities that allow me to advance and develop. I never said, 'I don't have a camera, I can't be a videographer.' Whatever the context, you can never give up."
Finally, Ally underscores the importance of humility:
"Never be arrogant. Arrogance will limit you; you might think you've arrived, when in reality you're still very far. Humility allows you to keep learning, to attract friends and the appreciation of other people. Humility means you're open to suggestions, you're willing to be patient. This is how you get the best results."