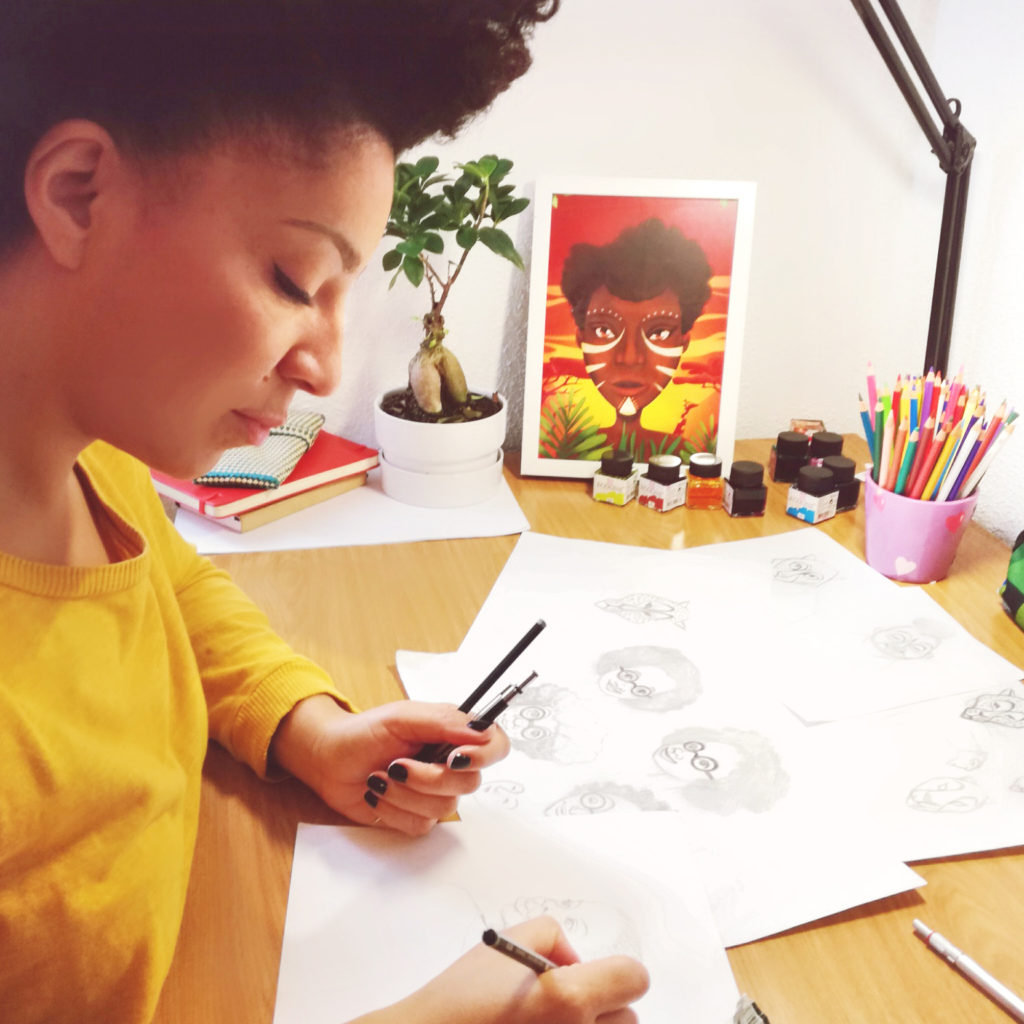 Rootencial is delighted to present Lydia Mba, an artist who specializes in illustration for children and youth. Born in Madrid, Spain to a Spanish mother and an Equatorial Guinean father, Lydia says that her hometown municipality of Alcorcón shaped her passion for art.
Si alguna vez has pensado en algo, aunque creas que es una locura, si es algo que tú has decidido lo conseguirás. Sólo tienes que hacerlo… Las cosas excepcionales a veces son las que a priori parecen más simples, pero necesitamos a alguien que haga esas cosas.
Surrounded from an early age by street art and a vibrant community of artists, Lydia decided to become an artist when she was 14 or 15 years old. Her artistry sprung from within the walls of her house, where, she began to make art pieces in her free time, before going on to take painting and drawing classes – "I started doing everything at home, looking for role models in books, finding illustrators or artists that I liked." Since then, her dedication to drawing continued to develop until she decided to dedicate herself to it professionally.
She started to participate in art workshops in the local area, receiving drawing courses and practicing in her free time to gain experience. She then to sought out specialized classes dedicated entirely to illustration, honing her skills through a professional course.
Since the moment she made the decision to make of this passion a profession, her trajectory has been marked by many hours of dedication and study: "It can be very difficult to make creative endeavors into a profession. People tend to view these creative pursuits as something to do in your free time, or as a hobby… I find myself constantly explaining to others that this takes a lot of time and effort, and that art is important." 
Ever since she decided to turn her passion into a profession, Lyia has devoted many hours to practice and study. Although many people do not tend to see being an artist as a profession – something she says is problematic, given the role of perception and image in media coverage – Lydia has received constant support from her family since starting on this risky trajectory.
It was relatively straightforward for Lydia to find relevant work as an illustrator, particularly in the video games and advertising sectors. She feels that her sociocultural identity has nevertheless limited her work in some ways. In Spain, she has still not been able to work with a national publisher, despite working for large national publishers in the United States, England, and even Kuwait.
When you cannot see any opportunities, you have to tell yourself: I will make the opportunity, I will create it, I will do it!
I realised that I rarely saw people who look like me in illustrations, so I decided to change that … I started to focus my work on giving visibility to the black community, African people, African descendants and to create diversity.
Realizing that her work often followed the mainstream in Spain, she decided to create new content focusing on diversity. She decided to illustrate new pieces that reflected her own identity, and those of her family and friends, to promote diversity.
Lydia feels immense pride that she can earn a living through her passion for illustration, and that she is able to promote diversity through her work. Lydia's story shows us that determination and conviction can enable you to create opportunities where there seem to be none. In situations where certain communities are under-represented, it is in the hands of these communities to get involved and to forge ahead in making new opportunities.
Decidir cuando ves que no hay un hueco: ¡Voy a abrir un hueco! ¡Lo voy a abrir yo, lo voy a hacer!
Creating something new is not easy. Lydia reminds us that those things that seem to be the simplest are occasionally require the most work.  Similarly, to set a new path is never simple; it requires a lot of work, willpower and perseverance to surpass the obstacles and seize the opportunities that come and go.
Lydia nos recuerda que los objetivos al principio se pueden ver muy lejanos, muy duros y que cuestan mucho esfuerzo, sin embargo esto es algo en lo que uno debe tener paciencia, ser constante y trabajar mucho sin rendirse. El reto principal nos cuenta, es no tirar la toalla, seguir trabajando y por mucho que se cierren puertas, saber que si una se cierra quizás no es la puerta adecuada, y la solución a esto puede ser seguir llamando sobre miles de puertas hasta que una se abra.
If you have a clear goal, you should contact people who are on track to achieve that goal or who have already achieved it. There is nothing better than talking to someone who has already achieved what you want,. He or she is the best person to advise and inspire you, accompanying you along the way.