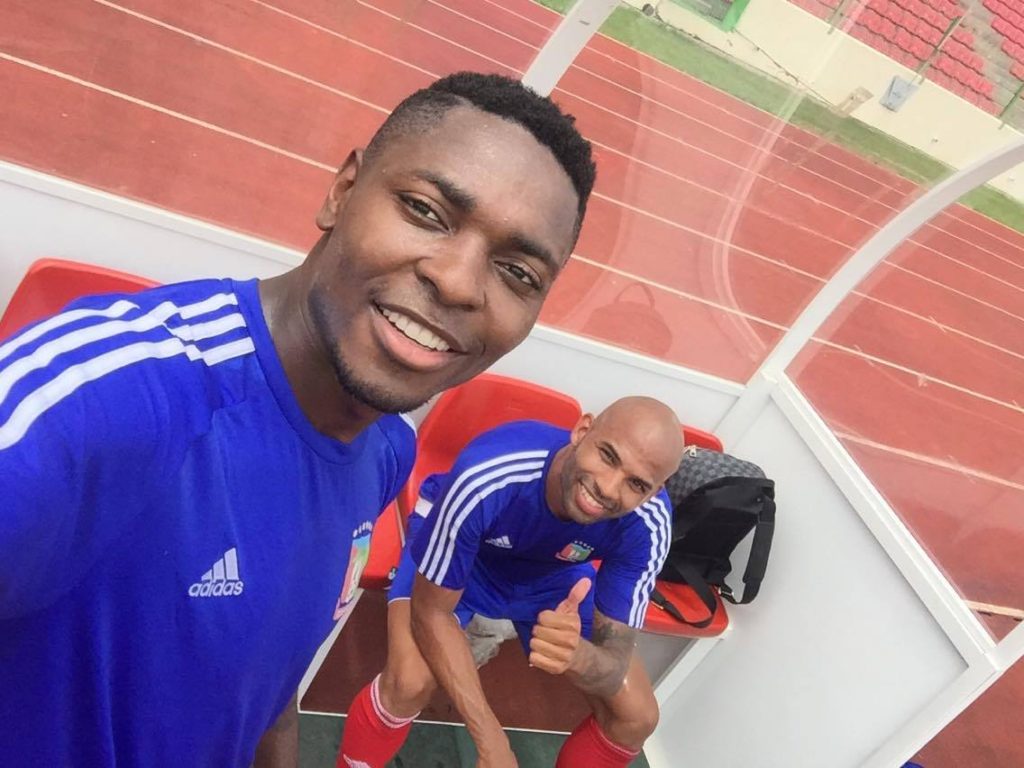 Rootencial interviews Eloy Edu Nkene, an Equatorial-Guinean by birth who left his country at the age of 14 and followed his mother and younger sister, Leticia, to Spain. Eloy moved to Spain in search of opportunities. He always dreamt of becoming a footballer. But it was only upon arriving in Spain that he began to realize that his passion for the sport might provide a living.
Don't stop dreaming. Don't stop believing. Don't stop dreaming of the goal, with victory, with succeeding. Dreaming is the only thing no one can ever take away.
Eloy moved to Spain in search of opportunities. He always dreamt of becoming a footballer. But it was only upon arriving in Spain that he began to realize that his passion for the sport might provide a living.
It was not until last year, at the age of 31, that my moment arrived. Believing, working, struggling…
He shares that it was not until last year that a stroke of luck came his way. Today, he is a first-division player at St Andres FC in Malta, describing this opportunity as one of his greater achievements. Eloy is also proud to have been the top-scorer at Villaverde FC in 2014-15, even as a central defender. He made his debut for Equatorial Guinea's national team in a World Cup qualifying match against Morocco, and went on to represent his country at the African Cup of Nations in a game against Mali.
You cannot devote yourself only to this. I've always been an amateur player. It is all about doing things that would allow you to earn a living and simultaneously be able to play football on the side. Perhaps you work in the morning, then in the afternoon you train and on weekends you play games.
Eloy trained to be an electrician in Spain, mainly seeking to please his family. However, the more he studied, the less he liked it. Football had always been part of life, and was often on his mind, regardless of what he studied or what jobs he took on to make a living.
In Madrid, Eloy finally found a vocation that excited him: the role of personal trainer. On the side, he also started to gain his football coaching qualifications, hoping to transition into a coaching role once his days as a professional player are over.
I feel proud when I play in the national team squad. I have always dreamed of playing for Equatorial Guinea knowing that my family was watching me. One of the best achievements is being able to represent my country. To feel it. To see all the Equatorial Guineans there is the greatest thing that has happened to me in my football career.
One of the biggest challenges he faces is in maintaining his mental strength, and not letting the obstacles penetrate the spirit of success.
He is indeed a fantastic example of perseverance and conviction. To all those who are in search of a dream, or who are striving to reach it,  he offers the following advice:
If you are weak, you can be beaten. If you are not, you will not join the "club of people-that-surrender".
You do not take the step. It is the luck you have or whether it comes to you. It is not as if you could say 'I am going to dedicate myself to this.' In football there are many barriers. Many of my childhood friends no longer play football, but I have insisted because I always believed that someday I would make it.
Eloy does not believe that cultural differences are a major obstacle to succeeding as a professional footballer. He currently lives in Malta and plays in the Maltese first division. Now living  and playing in Malta, he sees these factors instead as a challenge to face along the way. Eloy tells us that occasional negative energy from his family and friends were some of the toughest barriers he confronted as a footballer.
I've never had a single glass of alcohol, and I've never smoked. I have lots of friends who smoke and drink. I try to not get involved. I try to believe. Even if I do not reach the very pinnacle of the sport, at least I will still enjoy every moment as much as I can.
Eloy recognized that luck plays a big role in football. Many good players do not make it. There are many other barriers to succeeding, such as having an effective agent. Keeping fit and avoiding injury is also critical, as with other sports. To minimize the risk of injury and to keep in shape, Eloy does everything possible to take care of his body: he neither smokes nor drinks alcohol.
Eloy emphasises the importance of sacrifice, determination and self-belief as key values in his journey to become a professional footballer. These three values have allowed him to successfully overcome the different challenges he has encountered in striving to make it in football. Determination and confidence are essential keys to beat the odds, he describes, and are essential milestones that allow for the continuation of his dream of being a footballer.
It's hard to know you could have been there but you did not make it. Perhaps in Spain it is more complicated because it's extremely competitive.
He found it difficult to play in Spain. Given that Eloy was not a Spanish citizen, and having been unable to play for five consecutive seasons in Spain from the age of 18, it was difficult to find opportunities.  But, following his philosophy "you do what you need to do to earn a living and you do what you are passionate about in the evenings", Eloy managed to play in his country's national team – one of the most important achievements in his life.