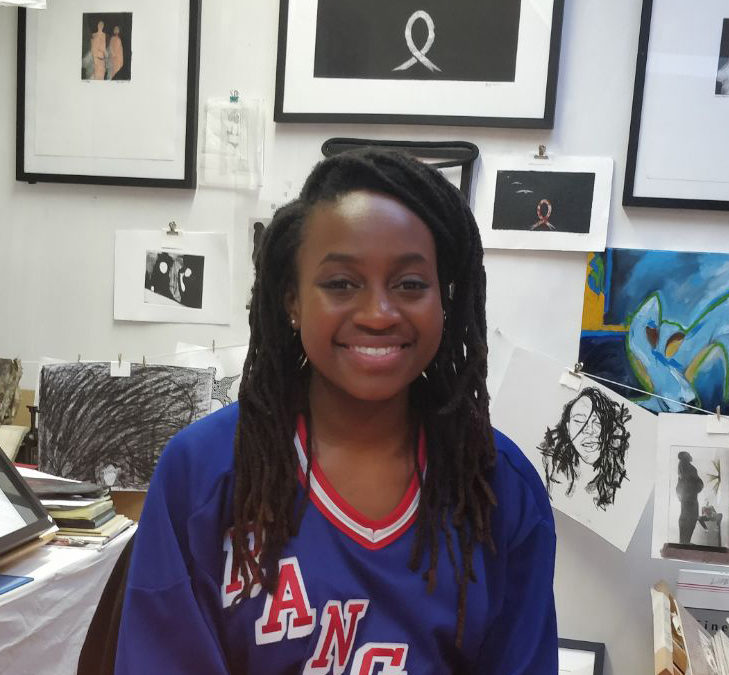 Organic Love for Art: Fungai Marima
On a drizzly January afternoon, Fungai Marima welcomes Rootencial to her art studio in London's majestic Old Manor Park Library.
One of the UK's first free public libraries when it opened in 1905, it remained a hub of intellectual exploration for east Londoners for more than a century until it closed in 2011. Fortunately, the building re-opened four years later, offering studio space for budding artists like Fungai.
Fungai's work adorns the studio walls, floors, and tables, visually recounting her memories of childhood in Zimbabwe; heading to London as a 17-year old, integrating in a new society and being adopted by her big sister; her relationships and life experiences.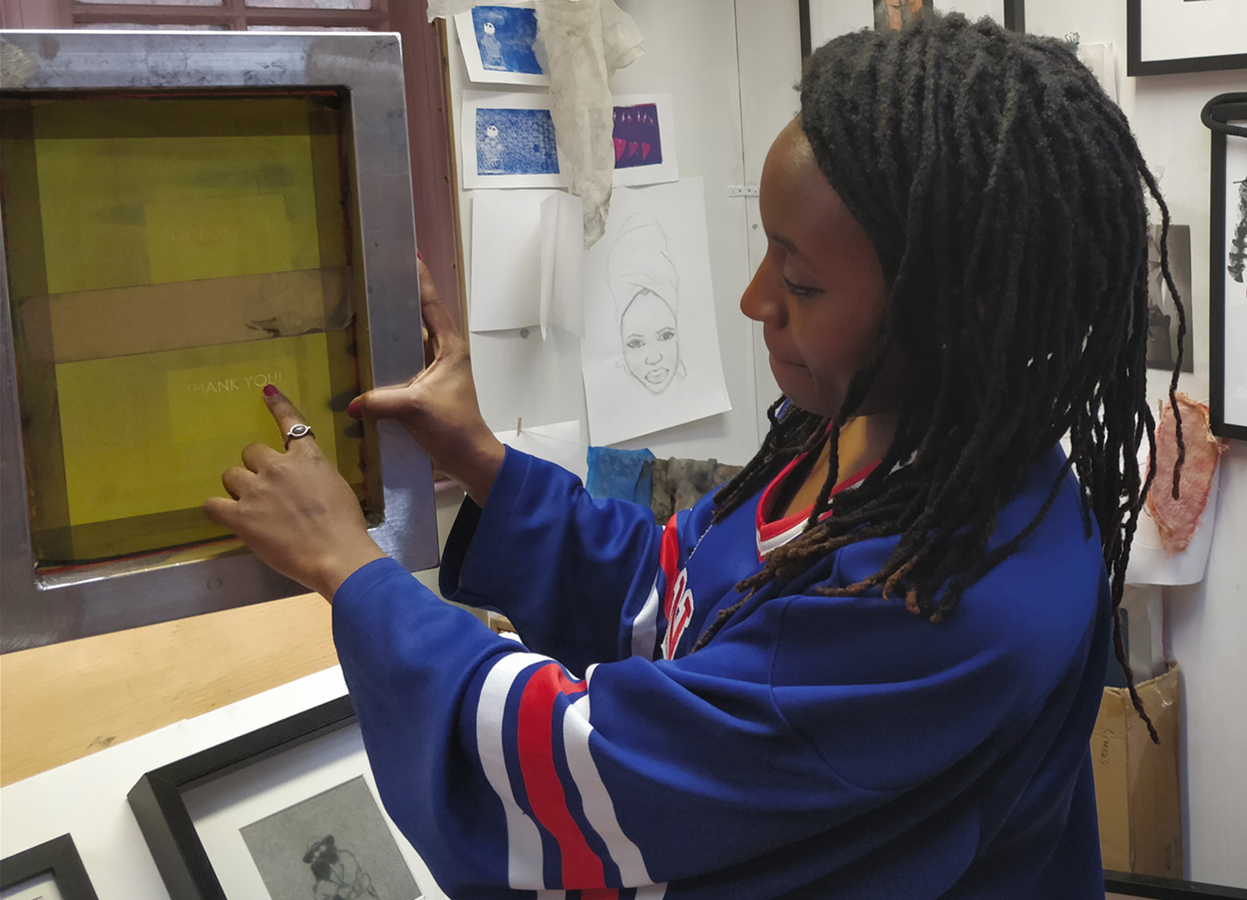 I guess my work is really just looking at the human experience. Of me being a woman, of me being black, of being part of a diaspora community, relationships… Human connections.
Fungai doesn't feel like she always loved art, though. In fact, she stumbled into the subject at school. "I started the year late at high school back in Zimbabwe, and then the only course that was still available was art! I said to myself, 'I kind of enjoy art, let's see how it is!'"
When she arrived in the UK, Fungai decided to further pursue her "organic love" for art. She excelled in the subject at school and advanced to a foundation course, being selected for a fine art pathway, before securing a Bachelor of Fine Arts degree at university, honing her skills in painting and printmaking.
But changing continents comes with its challenges, too, Fungai says, particularly in your teenage years when you have established friends and connections at home. "You have to re-do friendships, meet family you've never met in your life… It's a bit of an adjustment. I always felt a sense of not quite belonging. Something was constantly missing. But art helped me to go through that whole process of appreciating the people I do have. I didn't have that parental relationship because my parents had passed away and I was quite young, so you're constantly yearning for something, and you don't quite know what it is so you're constantly searching."
Fungai walks and talks through the studio, sharing the stories behind her paintings and prints. One painting somehow seems to evoke her appearance and spirit, but the face is blurred – intentionally, she explains, to represent not only her own story, but those of other women too.
It shows an African woman in a flowing, vivid yellow dress, sat down, clasping a blooming red hibiscus flower in each hand. There's a mbira in the backdrop – Zimbabwe's national instrument, a wooden board with small metal tines to be plucked by the thumb – and a black marking on the woman's left arm of a west African symbol for creativity and wisdom.
"This was my first painting in four years," Fungai explains. "I ended up hating painting due to the deadlines and time pressures at university, so I stopped for a very long time. And then I did this. At the time, I was going through some love problems. I needed to look a certain way to suit this other person's ideal, and that really bothered me. They'd buy me dresses that I needed to wear. But, look at me! I like jeans and trainers! So this painting was about womanhood, the pressures, and is also reminiscent of back home."
People put pressure on themselves to get inspired quickly and produce quickly. But if you put that pressure on yourself, it will show through your work… Stay as authentic and grounded as you can.
Fungai dreams of opening her own print studios across Africa in the future, starting with one in Zimbabwe. Feeling that there aren't enough institutions in Africa to support people creatively, she would like to give her skills and knowledge back and help to educate people. She adds that few people really appreciate how much money art can generate.
But, Fungai warns, if you're driven by money as an artist, you can end up losing your authenticity, producing work that you think will appeal to people. "It has to be about yourself first," she says, also recognizing the harmful effect that social media can have in seeking "likes" above deeper, more authentic creative engagement.