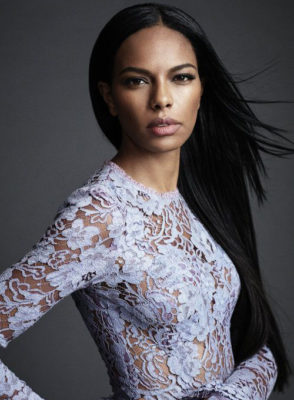 Noëlla Coursaris Musunka has walked catwalks in New York, runways in London and featured in top international fashion magazines including Vogue, Elle and Vanity Fair. But it is the supermodel's non-profit project Malaika, empowering girls and women in the Democratic Republic of the Congo, which brings her enormous pride.
At Malaika we focus on one of the words that gets forgotten too often – love.
It's so important to have mentors – to have good people around you."
Born and raised in the DRC, Noëlla was sent to Europe aged just five when her father died and her mother couldn't afford to look after her. Living in Belgium and then Switzerland, Noëlla wouldn't see her mother again for over a decade.
After a 13-year absence, Noëlla finally returned home. She saw the conditions facing her community in a new light, where many girls and women – including her own mother – have no access to education. Her experiences inspired her to contribute to education in the region by launching Malaika, a grassroots education organization in the DRC.
"Malaika is really amazing," she says. "When I started out, I never thought I'd be able to find the money to do it. But we've been building this school with a very high quality of education, raising the funds to build one new classroom every year. Most importantly, at Malaika we focus on one of the words that gets forgotten too often – love."
Malaika has had a transformative impact since, particularly for local girls, building a "model village," a blueprint which Noëlla believes could be replicated across the world. Starting with 104 girls, Malaika now supports over 340 students.
They have built a community center which impacts more than 5,000 people per year, along with wells which provide clean water to 20,000 people per year. Having successfully advocated for a new road to be constructed, Noëlla now has her sights set on bringing electricity to the village, where the local community currently has no access to power.
Noëlla's team have also distributed more than 9,000 bed nets to prevent malaria, one of the biggest killers in this region. The importance of this work was brought into stark focus after Myriam, one of the girls studying at the school, was killed by malaria one Christmas holiday – a loss felt hard across the community.
Malaika has received international acclaim and seen Noëlla profiled by the BBC, CNN and Bloomberg, as well as named as one of the 50 Women Shaping Africa by ELLE, one of the Most Influential Africans by New African Magazine.
Yet despite all her success in the fields of philanthropy and modeling, Noëlla is clear on what her main priority is – her family. "The time I spend with my kids is incredibly important to me," she says. "I want to be a mother to them, not a stranger. The fact that I didn't have parents means it's very important for me that I'm a mother."
Noëlla's husband, son and daughter play an active role in Malaika's success from the family's base in the UK. "I'm a donor to Malaika – I give my own money every year, and my husband donates too," she explains. "Even my son is giving his clothes and wants to get involved in one of the wells. I don't push them, but my kids want to visit. They go with me every year to Congo, at least once or twice."
When it comes to finding your path, Noëlla thinks you need to learn from others, while also listening to your own instinct. "It's so important to have mentors, to have good people around you," she says. "I'm very lucky to have amazing people supporting me, some brilliant mentors. You need the right people, the right team, and the right advice. And follow your sixth sense."
The fact that I didn't have parents means it's very important for me that I'm a mother."
Noëlla visited a local school in the UK recently, offering some of this advice. She was surprised by the types of questions that the kids asked her, interested in her social media accounts and the number of followers she has. "Life isn't about the number of followers you have," she told them. "It's about what you do with your life. It's not about money – it's about impacting life, sharing a message. What is your legacy? What is your story? What is your path to change the world?"