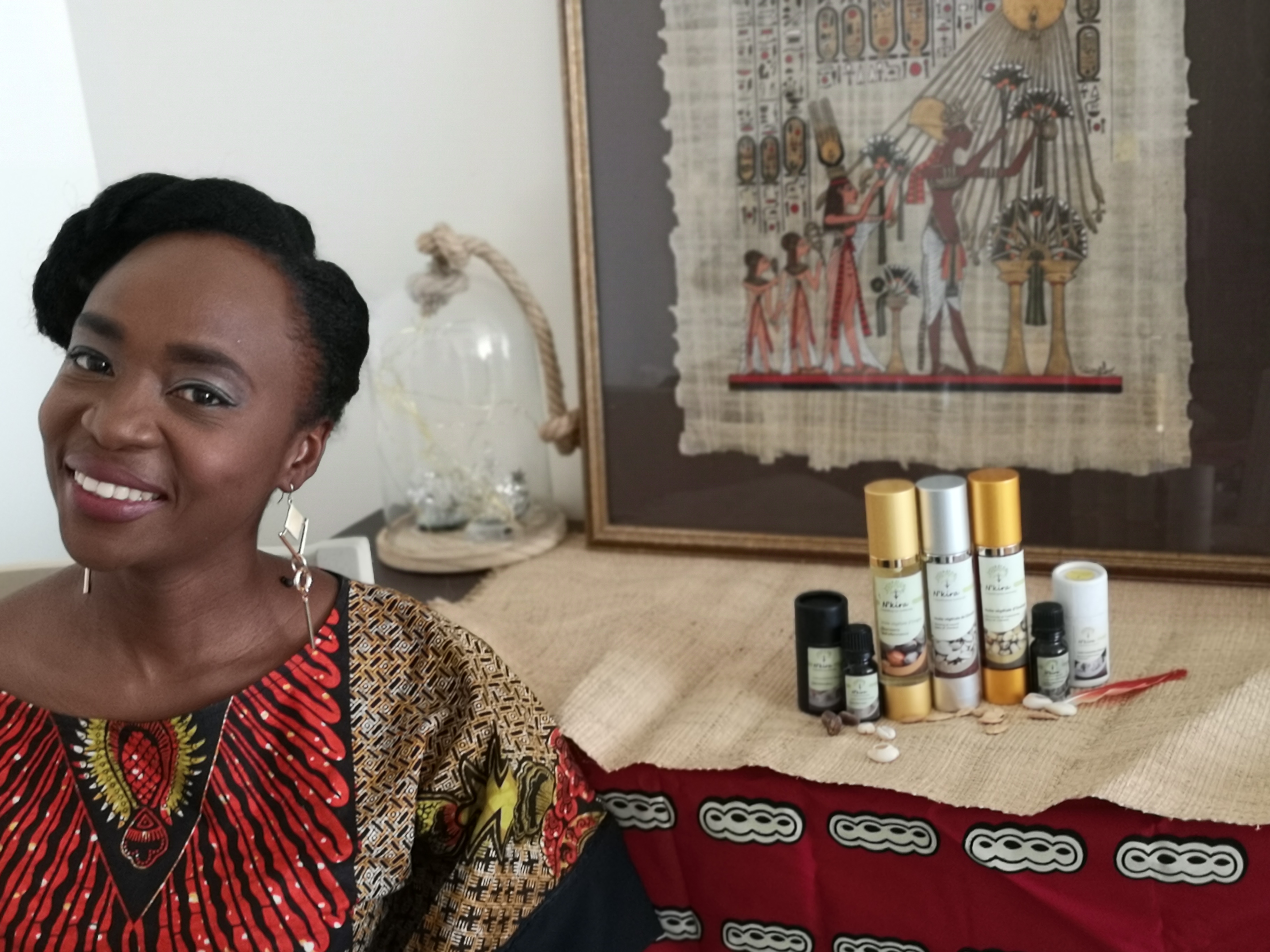 "We have incredible wealth here in the Congo Basin," says Priscilla Omouendze, the Gabonese founder of natural cosmetic product company N'kira. "But people don't value what we have, they don't believe in it much."
Priscilla launched her natural cosmetics firm in 2016, which uses plants from Gabonese forests in their oils and butters. She named the range after African heritage close to her heart. N'kira refers to water spirits who evoke the traditional practice of téké, in worship of twins – a cult where there are more women than men. The Nga N'kira are an order of healers who make use of plants. Priscilla chose the name N'Kira for business in order to honour women
We spoke with Priscilla for one of the new episodes of the Rootencial Conversations podcast. Based on her experiences launching a business in Gabon, Priscilla shares her top five learnings and messages with us here.
1. Central Africa is blessed with incredible natural wealth.
Priscilla describes all the organic and natural cosmetic products that can be made out of the leaves, fruits, and seeds of trees in Gabon and neighbouring countries. Even Priscilla's students at Gabon's National School of Waters and Forests are surprised to learn that oils can be extracted from certain seeds. They are also surprised that this can be profitable! Priscilla stresses the importance of continuing to invest in research to better understand the health benefits of these plants.
2. Forests are over-exploited and incomes are poorly distributed
Trees are often cut down while they are still producing fruits, that could have produced additional value. Rural people are often marginalised and excluded from this exploitation of the forests. Priscilla believes it's possible to create inclusive wealth while simultaneously protecting biodiversity; we need to create value chains for renewable natural products and involve rural people. That's what N'kira is all about.
3. Unemployment poses a challenge that scientific research could raise.
Priscilla is deeply concerned about the issue of youth unemployment in Gabon. She describes how budding young scientific researchers are often discouraged due to the lack of opportunities, resources, and wider devaluation of science. By embarking on an entrepreneurial journey, Priscilla also sought to demonstrate that it's possible to work in science and make money.
4. It is sometimes through anger that things are created.
Men in Gabon often underestimated Priscilla's efforts: they told her just to smile and not worry about business, since she's a woman. Even her colleagues sometimes told her that she got too angry or was too serious. Priscilla responds that anger can be a powerful motivating factor when you want to create something; it can give you the energy and determination to see it through.
5. If you fall off a cliff, what do you lose in trying to fly?
To import a pressing machine into Gabon from Germany, Priscilla would have had to pay a lot of taxes to the customs authorities. This would have had a significantly harmful impact on the profitability of her company. She dared to reach out directly to the relevant minister, advocating for an exemption. Several months later, the minister approved her request – allowing N'ikira to flourish.
Priscilla tells us that even when everything seems hopeless, you have to dare. To dare is to succeed in the business world.
Would you like to support the N'Kira project? You can get in touch on nkira.cosmetics@gmail.com