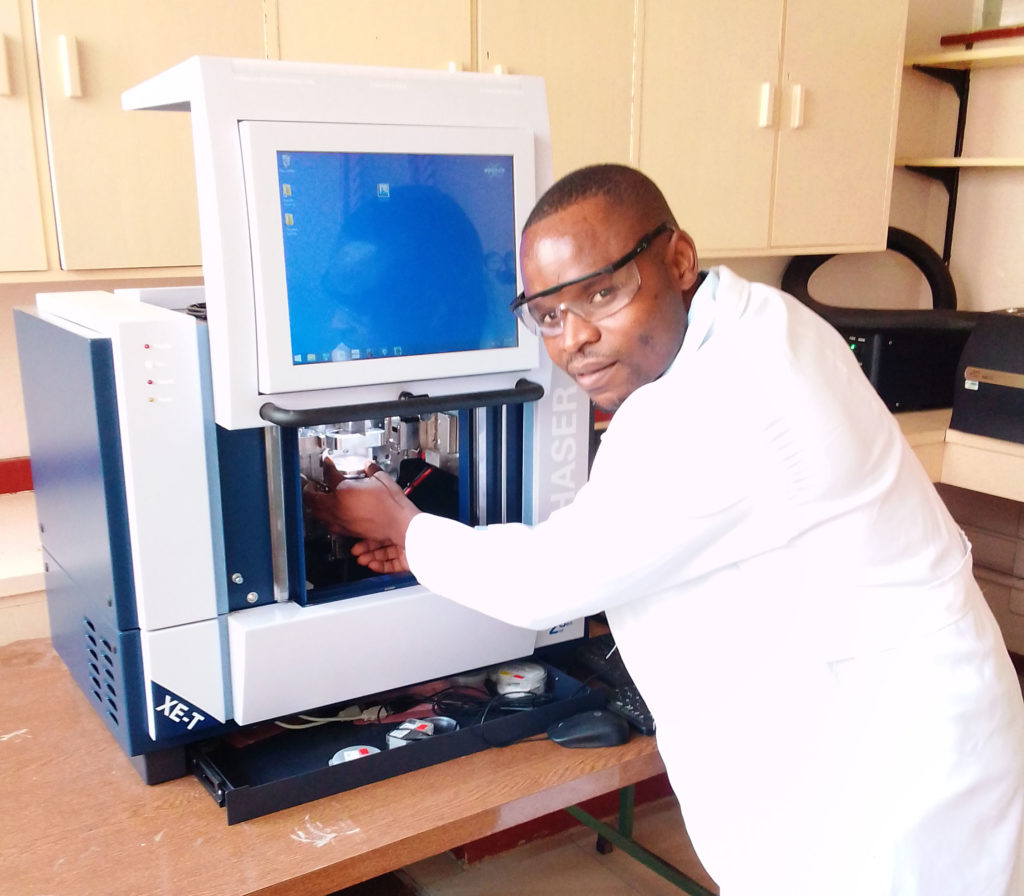 Gift Mehlana got the 'science bug from his older brother, who was passionate about the subject at school. "l just wanted to be like him!"
Having grown up in Zimbabwe, Gift realised that "there are so many things that science can do, providing solutions to problems we're facing'.
Today he is a chemist with a PhD from the University of Cape Town, working on tackling one of the biggest global challenges. "If anything threatens our existence on this planet, it's the accumulation of carbon dioxide in the atmosphere – the chief cause of global warming," Gift said. He is working to develop new technologies to 'recycle' carbon dioxide, capturing and transforming it into materials to be used for other purposes. 
Africa is rarely perceived as a hub of science and innovation. 
But the continent is bursting with scientific research talent and expertise, with brilliant scientists like Dr. Gift Mehlana at the cutting edge of solutions to the biggest challenges facing Africa and the world. In an interview with Josefina Bonsundy-Nvumba, Founder of ROOTENCIAL, Gift shared his perspectives as an African scientist on the key opportunities and challenges facing research and innovation on the continent.
Africa is home to top-rate scientists.
I admire people like Professor Kelly Chibale greatly. He is the founder of the H3D research centre at the University of Cape Town working on drug discovery and development, including for malaria. He has attracted talent from all over the world [to the centre] and has shown that Africans can be top-rate scientists.
Professor Susan Bourne, my PhD supervisor at the University of Cape Town, is another outstanding African scientist, along with Professor Tebello Nyokong at Rhodes University. These are both women scientists – and if you educate women, you educate an entire nation. And, this is so true given the number of scientists trained by these two Professors.
"I want to help people, to help the nation, and to help the world at large"
African scientists are forced to be resilient, innovative and collaborative.
There is Still a lot of discrimination in some journals entrenched in their policies. You can't publish your work in certain academic journals if you're from
some low- or middle-income countries, including in Africa. Access to funding can be a challenge. Talented African scientists often move to Europe or the US in search of 'greener pastures,' Our labs aren't always equipped to do meaningful research that can change people's lives. So you need to collaborate with Other scientists to share equipment. But this is less of a challenge in places like Algeria, Egypt, Tunisia, Morocco, Kenya, and South Africa.
Africans have to define the scientific research agenda on the continent.
l've been following the controversy surrounding the proposed testing of coronavirus vaccines in Africa, with several high-profile footballers coming out against this plan. But vaccines don't have the same effect on different populations. A vaccine only tested on Europeans may not have the same effect on Africans.
We need to look at the holistic picture, and consider why it is important for Africans to participate in clinical trials, and then make a decision ourselves, yes or no. As Africans we need ownership of this – but how do we achieve that with such limited funding available to our scientists? One way we can do that is to partner with scientists in Europe and the IJS. But then it goes back to what I was saying: who has influence on the African continent?
"Our scientific research is at par with research done in America or Europe. But as African scientists, we need to do research applicable to our own context."
We need greater visibility for inspirational African scientists as role models.
Unfortunately, in many African societies, very few people listen to what scientists say. Some don't believe in science. But as scientists, we are not trained in communication even during our PhD. You spend your time in the lab, doing research, but how do you take the information generated in the lab to people on the street?
We need to constantly communicate to the general public about the research we're doing and why it's important – and we need more African scientist role models. Role models are very important to give direction, mentor and inspire young people to take up a career in science.
Science must play a greater role in decision-making in African countries.
In certain countries in Africa, science has increasingly been used to make decisions – you see it with the response to COVID-19 pandemic. Research at
the University of Cape Town and other institutions in Africa have already demonstrated that as Africans we have the capacity to do meaningful research to advance our continent.
African governments need to invest in laboratory infrastructure, human capital, research, and engineering. When our people are at the forefront of driving the agenda, African scientists Will not need to go to Europe or the US. We can attract talent from these places to Africa.
"I hope the Africa of the future will be a continent where science has its place."
Listen to the full podcast episode here.