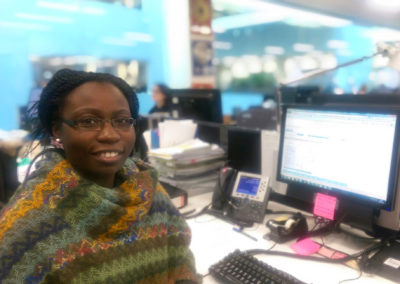 Adding diversity: Monica Obono Ndongo
Rootencial welcomes Mónica Obono Ndongo Okenve, a 35-year old Madrilena born to Equatorial Guinean parents. Monica has two kids and now lives in London. She works in the classical music department of Warner Music, one of the world's largest record labels.
Rootencial welcomes Mónica Obono Ndongo Okenve, a 35-year old Madrilena born to Equatorial Guinean parents. Monica has two kids and now lives in London. She works in the classical music department of Warner Music, one of the world's largest record labels.
In her free time, Monica started to learn the piano and sol-fa. While she did not attend a musical conservatory for her secondary studies, Monica decided to focus her university studies on her passion for music. She secured an undergraduate degree in audiovisual communication, history and musical science, later earning a master's degree in ethnomusicology in London. Monica studies have allowed her to combine her passion for music with her love of television and radio. She soon came to realize that this was a highly competitive industry, and that to get ahead she would have to further reinforce the theoretical knowledge she had developed at university.
I knew I had to study… I did not go to the conservatory, but I studied piano and sol-fa on my own. When I discovered that there was a career that theorized about music, I loved it. It caught my attention, it attracted me and I launched myself headfirst into it…
Monica was born in Madrid but lived in Equatorial Guinea from the age of seven to eleven. This country represents "her other land", and has significantly influenced her interest in African music and culture.
While Monica had planned to pursue a PhD after her Master's degree, the twists and turns of life brought her directly to the workplace instead. To succeed in transforming her passion for music into a career – not necessarily as an artist – has required careful planning and strategic thinking about how to seize these opportunities.
Monica's success demonstrates that passion for classical music need not be bound by racial or cultural identity. Her experience challenges the widespread perception that classical music is elitist, and not necessarily something for black people. While many of her clients are sometimes surprised to see a black woman working in the classical music department, Monica believes her race and socio-cultural background have been helpful.
Warner Music has a deliberate plan to create cultural diversity within the organization, allowing her and others to integrate into a diverse group made up of many different nationalities. Monica has seamlessly integrated into this cultural framework, contributing to diversity in the office through her own sociocultural identity as a black woman.
I am proud to have studied … It made me a very competent person. At work, I continue to use all the tools and skills I learned at university. Those lessons continue to shape me, and have helped me to push ahead.
During my studies, I was confronted with courses that required more musical knowledge than I had… That was challenging. I was not up to par. I had to work harder than my colleagues, who had all attended the conservatory. But I handle it.
Monica found studying for a master's degree in ethnomusicology in the UK challenging at times, particularly given that she did not speak English fluently. She felt that this limited her at times. However, this did not stop Monica or limit her determination in pursuing a career in this field. She decided to dedicate her final dissertation to studying music from her parents' country of origin, exploring the traditional music of the Fang, one of Equatorial Guinea's tribes.
My blackness is "out there" and it's a benefit, because it is often hard to find much racial diversity [in classical music]. Traditionally, it has been seen as highly elitist; something for white, upper-class communities. Sometimes, people who do not work in our department are surprised or curious to see me there.
Despite the challenges she has faced to get to where she is today, Monica is proud of her academic achievements, particularly her undergraduate and postgraduate degrees. Monica sees how important her studies have been in her life, given her the skills to dedicate herself to her passions and interests; to get ahead and succeed.
If you break down when confronted by unforeseen events, this will be one if your biggest obstacles. One has to know oneself well enough in order to overcome what he/she considers to be his/her weaknesses.
Monica is convinced that achieving your personal goals depends on you. That obstacles you encounter on the road to success are just personal challenges to overcome. The most important thing is to know yourself, know your weaknesses, and overcome them. In her life, Monica had to learn English while studying and had limited technical musical training compared to some of her classmates. But, she never allowed these obstacles to defeat her; Monica worked to find a solution. She passionately believes that any obstacle, with the exception of death, can be overcome.
Monica's message to young people:  
You need to imagine yourself and your future. Decide what you want to achieve in the next 10 to 15 years. Set yourself a goal, and work out what you have to do to reach that goal. If you think deeply about this, remain persistent and determined; it is almost certain that you will get there. In life, there are many distractions and competing priorities and responsibilities. Despite all of this, you must never lose sight of your goal. Focus; be determined; persevere!